RUSTV2 will be wiping on 8/20/2022 at 7 AM Pacific Time.
Unofficial Changelog (More changes coming):
/Major improvements to /map website
+Added new "Infinite Ammo" Mythic (Mostly only automatic guns)
+Added new "The Hunt" event
+Added new PP-2000 gun
/Buffed PP-Biz
+Added a new MUTANT TREE boss (Wtf??)
/Buffed tentacles mythic a bit
/More items added to minigame shop
The Hunt Event
This event will last approximately one hour, and will apply the following:
Infinite Ammo
No durability loss
Heatmap showing red+ sets
Here's an example of what the heatmap looks like (Use /map to view)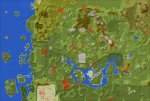 ------------------------------------------------------------------------------------------------------------------------------------------------------------
Updates that happened during last wipe
No-Betray system
At an attempt to help players create bigger teams without worrying about betrayl constantly, I've created a new system to hopefully prevent the bulk amount of betraying.
You can no longer damage allies, or team members

Kicking, unallying, or leaving a faction will now have a 30 second delay
New Garage Door System
Garage doors were getting stale. I decided to spice them up a bit by allowing you to create LIFTS, and change the direction of your garage door at will.
Couple examples of stuff you can do now:
https://i.gyazo.com/ab4305dea203c9f6ef09de6958b718a6.mp4
https://i.gyazo.com/4019c0dfc0ecef3f12ba31ac7814329d.mp4
https://i.gyazo.com/a4e9473d63e1f28438ddbf5e858cb894.mp4
New Bandit AI
Bandit AI has been rewritten in several parts to create more aggressive, realistic fights.
New High Tier loot zones
Some loot zones have been designated as higher tier, which will disallow blue (protection mode) players from entering.
New /PVP command
A new combat system was implemented on top of the existing /war system. It will teleport your team and the enemy team to a random position on the map (not in a trap) to battle it out.
Tapfiring NERFED TO THE GROUND
Last edited: